Summary
A hybrid of a John Hughes teen film and a caper moves at a far gentler pace than the title would imply, but highlights a strong ensemble cast in this Netflix original film.
From Rififi to the Fast and Furious series, the heist film has allowed cinemagoers to live out their criminal fantasies within the safety of formula. Writer/director Emily Hagins' COIN HEIST, based on the young adult novel by Elisa Ludwig, plays with some of the conventions of that genre, but combines it with the best bits of a teen movie as well.
After the principal of an exclusive prep school is arrested for embezzling the institute's endowment, all of the extracurricular activities are cancelled. In an attempt to save the school, an unlikely group of students – perfect student Dakota (Sasha Pieterse), computer nerd Alice (Alexis G. Zall), athlete Benny (Jay Walker), and slacker Jason (Alex Saxon) – band together to rob the US Mint.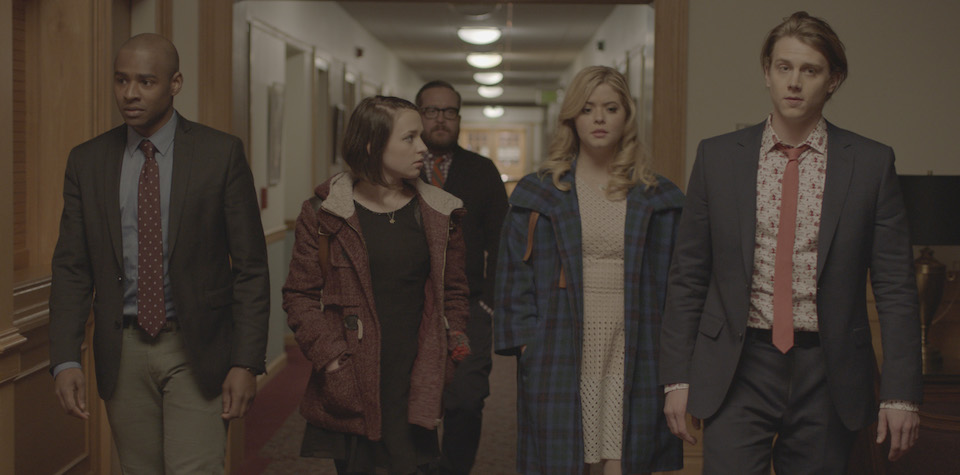 At the start of the plan, Jason speaks about watching a dozen heist films by way of preparation, including a brief onscreen reference to The Bank Job. Rather than copy those films, Hagins rejects many of their stylistic cues and looks more directly to John Hughes for inspiration. Indeed, COIN HEIST feels for all the world like The Breakfast Club, but only if the misfit youths busted out of detention in order to lift millions of dollars worth of quarters.
The soft lighting, close-ups of makeup application, and a soundtrack peppered with tunes from the likes of Timecop1983 only serve to strengthen the connection. While the cast may not be as collectively strong as the Brat Pack, there is some genuine chemistry in this foursome. Pieterse, the most recognisable of the group from Pretty Little Liars, is the strongest of the group, effortlessly capturing the overambitious organisational queen. Similarly, actress and YouTube personality Zall is a likeable personality, even through the cool outsider facade. Both Walker and Saxon get to play with the archetypes of their roles, even if their blossoming relationships with the two female leads is well telegraphed.
COIN HEIST is a terrific addition to the collection of Netflix original movies, and a great example of where there strength of their niche distribution lies. Once upon a time, a film like this would have disappeared onto the rental shelves, but that would be a shame. A fun teen twist on the genre, you may see exactly where it is going, but you'll have a good time getting there.