Summary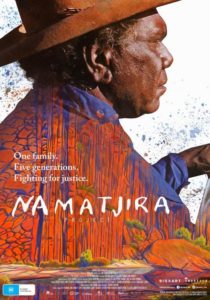 An exploration of the life and works of Albert Namatjira filtered through the lens of a project that hopes to restore the legacy (and copyright) of his works to his family.
Almost 60 years after his death, Albert Namatjira remains one of Australia's most celebrated artists at home and abroad. More than this, he was the first Aboriginal person to be granted restricted Australian citizenship. It's no coincidence he was expected to pay hefty taxes after this due to his commercial success.
NAMATJIRA PROJECT is an attempt to document "the commercial appropriation of Aboriginal experience." Director Sera Davies' film makes it clear from the outset that this isn't a straight recap of Namatjira's life and paintings, but also a development history of the titular stage production and the journey of Namatjira's descendants take to reclaim the copyright on the artist's work.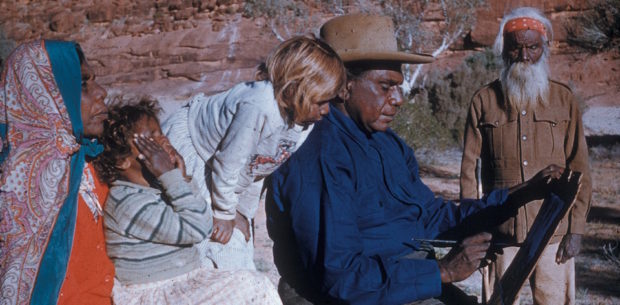 Weaving the rehearsal and stage footage together with interviews and archival pieces, Davies takes viewers on a trip from the inspirational expanses of Namatjira's Aranda homeland to his grandson meeting the Queen at Buckingham Palace. As such, it's not always a straight line, and the fragmentary approach leaves some narrative gaps for viewers not already familiar with Namatjira's colourful landscapes or his place in Australian art history.
Yet this partially opened door gives us the secondary purpose of NAMATJIRA PROJECT, both the play and this documentary film of the same name. Through archival footage that showcases Australia's disgraceful attitudes and treatment towards Aboriginals over the last century, this is both a message and a pathway towards the future. "The audience feels grief," explains the creative team behind the play, "but also an invitation to a life."
For the people who serve as the subjects of the film, this all has a different meaning of course. Actor Trevor Jamieson, who plays Namatjira in the play-within-a-film, has a visible toll taken on him throughout the production, coming with the pressure that it does. Kevin Namatjira, Albert's grandson and an artist in his own right, also has an enormous push to "be" Albert Namatjira in terms of representing the cause on the world stage. This culminates with footage of Kevin and other people on the project meeting Prince Phillip and Queen Elizabeth II while visiting London.
At the time the film finished production, Kevin Namatjira's housing situation was still unstable, perhaps underlining how immediate the needs of returning copyright are to his family. This multi-generational tale isn't simply a profile of an artist and his family, but a brief document examining the ongoing legacy of a government's treatment of its indigenous peoples.
If you wish to donate to the cause, visit namatjiratrust.org