Summary
A familiar set-up and a thin plot swirl around this feature-length commercial of missed opportunities. Needs more Steven Wright.📽️🍆💩.
As the familiar Columbia Pictures logo is stamped with a smiley face, it's clear that nobody thought THE EMOJI MOVIE through beyond the title. Reportedly inspired by Toy Story, as was everything from The Secret Life of Pets to Boss Baby, director Tony Leondis aims for parody but winds up becoming the very empty vessel that it is trying to skewer.
The screenplay is very much an amalgam of other recent animated films. Inside our phones, there's a complex unseen society (Toy Story, A Bug's Life etc). Emoji Gene (voiced by T.J. Miller) lives in Textopolis, where every emoji is taught to only be one thing (Inside Out, Smurfs: The Lost Village). Labelled a malfunction due to his many emotions, he and Hi-5 (James Corden) leave their own app (Wreck-It Ralph) in order to find mysterious hacker Jailbreak (Anna Faris) who has a mastery of the phone's code (The LEGO Movie).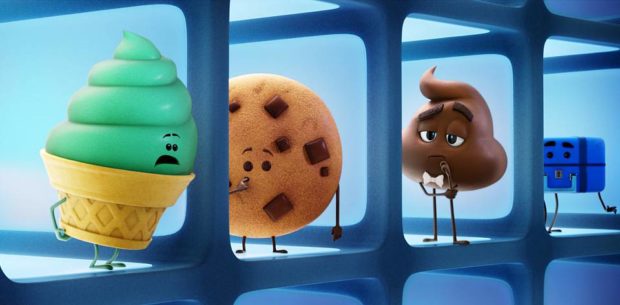 On the surface the film is cleanly animated and filled with sporadic laughs, especially from Steven Wright and Jennifer Coolidge as Gene's apathetic parents, Mel and Mary Meh. Indeed, it would have been a far improved film if they'd focused entirely on their non-plussed personas. On the other hand, Sir Patrick Stewart's Poop starts with the rally cry of "We're Number Two!" and goes downhill from there.
Few films have been as cynical in their shameless advertising and product placement as this. Indeed, much of the plot sees the emoji having to navigate through Candy Crush, the Just Dance app, and Spotify in order to reach Dropbox and be uploaded to the cloud. They aren't simply plot devices either, with logos hanging prominently in the centre of the screen while the scene is established.
Yet an even bigger crime is the lack of internal consistency, perhaps unsurprising for a film that has based itself around emoji. If the message of the film is to be true to yourself, it is something that the light script has trouble doing itself. The character of Alex (Jake T. Austin), the human teenager owner of the phone, is fully animated. Yet we also see live action footage on YouTube. Even simple technical information about phones is erroneous, insulting the intelligence of all but the youngest fans.
On the scale of 😒 to 💩, THE EMOJI MOVIE falls somewhere in the disengaged middle. There's so many missed opportunities in the film, including a brief foray into the lives behind Instagram photos that could have sustained a deeper narrative. As the film wraps up into the seemingly obligatory dance scene finale, it's hard to mustre much emotion beyond an old-school ¯\_(ツ)_/¯