Summary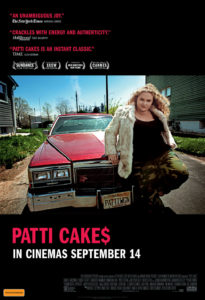 It's got a good heart and a fun soundtrack, with a hell of a lead performance, even if it follows the narrative rules rather than breaking them.
From the big stylised music video opening, filled as it is with non sequiturs and vicious beats, PATTI CAKE$ establishes itself as leaning up against a kind of magical realism. Yet it's definitely grounded in the 'reality' part, as Geremy Jasper's debut feature takes us from rags to slightly fewer rags in this mostly feel-good picture. It's like Rocky for the New Jersey hip hop scene.
Aspiring rapper Patricia Dombrowski (Danielle Macdonald), a.k.a. Killa P, a.k.a. Patti Cake$, has a lot to contend with. Living on the poverty line in New Jersey, her difficult relationship with her alcoholic mother (Bridget Everett) is exacerbated by the latter's refusal to let her brief career as a singer go. Patti's only solace are her dreams of being a rapper, along with her grandma (Cathy Moriarty) and friend Jheri (Siddharth Dhananjay).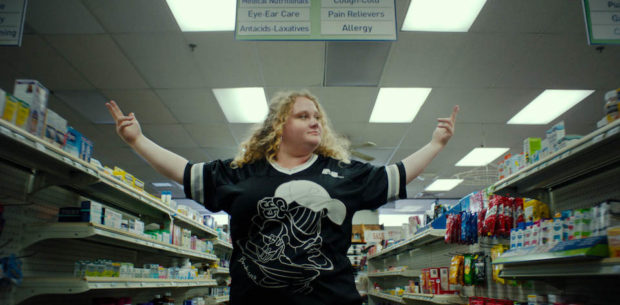 It's hard not to think about 8-Mile throughout the thematically similar PATTI CAKE$, with the titular lead feeling as though she only has one shot to make it out of her equivalent of 'Salem's Lot. There's even a failed street rap battle. Distinguishing itself from the Eminem vanity project is a charming sense of fun. Sure, Jasper's script gets dark at times but it is filled with characters that feel real, and no dire situation is completely without humour.
Australia's Macdonald gives a breakthrough performance in the central role, carrying all the swagger and flow that come with her brash New Jersey accent, but tempering it with vulnerability. Born in an abundance of inherited failure, Everett is also terrific as Patti's failed Bonnie Tyler-esque mother. Mamoudou Athie as the wood-dwelling goth DJ is a non-sequitur gem. Yet it's Moriarty who steals every scene she is in as the chain-smoking Nana, whether she's offering samples for Patti's beats or posing for album art.
There are very few surprises in the narrative arc of PATTI CAKE$. There's a definite track listing that Jasper follows from start to finish, rarely deviating from the expected highs and lows of a wannabe superstar. After all, we know going in that the film will be working its way up to the big musical finale, and that's just fine. So while this rapper may not win any originality battles, if you're going to be hatin' on her too much, you best take her advice and check yourself.