Summary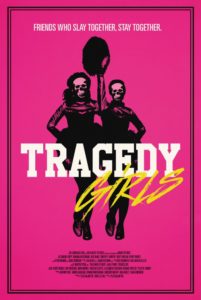 A sharp contemporary satire on both the horror genre and the Instagram generation. As bloody as it is bloody marvellous.
Tyler MacIntyre's TRAGEDY GIRLS might begin with a scene that could be in any horror film, with lovers in a car interrupted by a bloody murder. Yet this film is anything but typical, joyously rampaging its way through the tropes of the genre and leaving them bloody in its wake.
Death-obsessed teenagers and BFFs Sadie (Brianna Hildebrand) and McKayla (Alexandra Shipp) run a social media channel that they will do anything to promote. That includes kidnapping a local serial killer (Kevin Durand) and making him be a mentor, and starting a killing spree of their own. In between cheerleading practice, of course.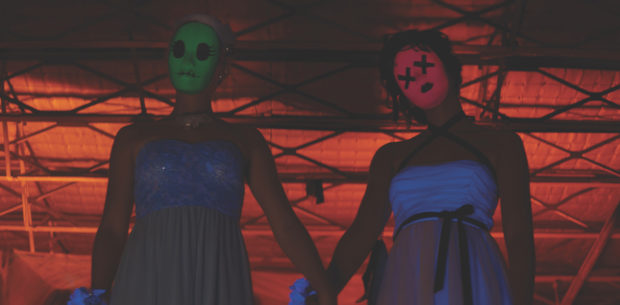 It's easy to make comparisons to Scream with TRAGEDY GIRLS, and it certainly shares a thread of self-aware ribbing of the genre. Apart from updating the references to the social media generation, it distinguishes itself by making the audience complicit in the acts as we actively cheer on the success of these fledgling psychopaths. As the adults around them refuse to take the cue and see a pattern of mayhem, there's a sense of wanting to see them caught as well, so everyone can bask in the cleverness of it all.
Much of this is thanks to the central performances of Hildebrand (Deadpool) and Shipp (X-Men: Apocalypse), who sit in the nexus of being alternative outcasts and Heathers. Their deadpan delivery of fairly maniacal plotting is so matter of fact, we have no choice but to happily go along with it.
Their escalating slayings are a combination of convenience and attempts to boost 'likes' on their social channels. Make no mistake: even though this is sharp satire, the blades and other killing implements are just as sharp, with the blood running freely in a variety of creative outlets. The desire to see more over-the-top killings puts us right where MacIntyre wants us, buying into the exhibitionism of a generation raised to be their own paparazzi.
Yet what's ultimately remarkable about TRAGEDY GIRLS is that it works both as a horror film and a clever dissection of them. It's clear from this, and MacIntyre's previous throwback film Patchwork, that he has a distinct love of the genre. As a result it never feels like it is mocking or belittling the patterns, but celebrating and exaggerating theme. Fun and frenetic, it's the bloodiest feel-good film about friendship of the year.