Summary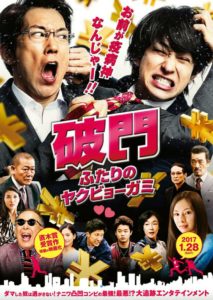 An often absurdist and self-referential yakuza film that plays for comedy within a grounded framework, putting in place all the pieces needed for a successful series of adaptations.
The yakuza genre is always prime for a good ribbing, especially given that storytellers tend to invest the tales with a kind of operatic seriousness. Hiroyuki Kurokawa's series of bestselling books have done just that, and the adaptation of the fifth book in the series brings audiences something that is both anarchic and downbeat.
Borderline broke and struggling to make the rent, slacker Keisuke Ninomiya (Yu Yokoyama) is a construction consultant to the yakuza, calling in the latter to 'settle' disputes. Through this work, he liaises with gangster Yasuhiko Kuwahara (Kuranosuke Sasaki). When Kei is called up by film producer Koshimizu (Isao Hashizume), he convinces yakuza leader Shimada (Jun Kunimura) to invest money in the production. However, Koshimizu absconds, setting in motion a multi-gangster pursuit of the rogue.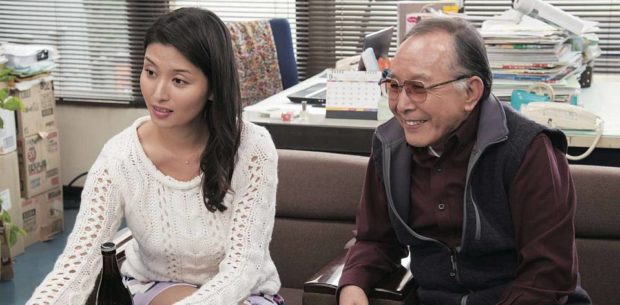 It's hard to tell what genre director Shotaro Kobayashi wants to slot it into at first, with a Lynchian pre-credits sequence of Kei floating (or falling) through space followed by a heavy rock title sequence. Perhaps the closest we get to a description of the tone comes from Koshimizu's talking up of the novel ("Frozen Moon") he is allegedly adapting: "It's hard-boiled but not manga-esque."
At it's heart, HAMON: YAKUZA BOOGIE (破門 ふたりのヤクビョーガミ) is a buddy-comedy. As a road movie there's an episodic nature to the events as well, taking us from the streets of Osaka to the hotel casinos of Macao. Yet the firmly grounded nature of the script means that it is given to it's own measured pace, surprisingly downbeat at times with random acts of violence. Even this is played for laughs, albeit a bit of a dark chuckle.
None of which would work without the understated talents of the lead. Yokoyama slides effortlessly into the put-upon Kei, consistently underestimated by seasoned gangster Kuwahara. Yet it's Sasaki (Flower and Sword, A Beautiful Star) who shines in every moment on screen, whether it's the casual contempt on his face, the disarming athleticism, or singing The Manhattan's "There's No House Without a Home" on karaoke. In fact, the latter might be one of the most outstanding scenes in the entire film.
The back half of the film certainly sits in a cycle of episodic scenes as the various people looking for Koshimizu converge into a singular story thread. Nevertheless, hopefully this will lead into more adventures of this unlikely duo, with plenty more of Kurokawa's works left to adapt. HAMON: YAKUZA BOOGIE puts down a fun foundation for what could be a series we'd happily return to annually.