Summary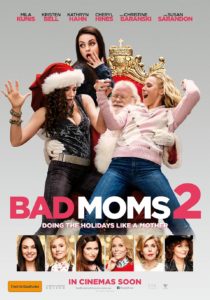 They're still not all that bad, especially in comparison to their own mothers, but the nonconformist matriarchs are back for something 'yule' love.
Despite the title, last year's Bad Moms wasn't especially rebellious, but it did provide a fun cast and plenty of laughs in the process. BAD MOMS 2 (also known as A Bad Moms Christmas) joins the ranks of ostensibly subversive seasonal films, and while it is occasionally raunchy, still manages to play it pretty safe for a comfortable set of familiar gags. At the very least, you're sure to have a least a smile on your face for the duration.
Just like real life, the titular Chicagoan mothers Amy (Mila Kunis), Kiki (Kristen Bell), and Carla (Kathryn Hahn) have their holidays invaded when their respective mothers (Christine Baranski, Cheryl Hines, Susan Sarandon) come to visit. Vowing to "take back Christmas," it's all-out war as the "moms" battle their own kind for supremacy.
This entire strand of comedy thrives on minor conflict and resolution, and BAD MOMS 2 is in not hurry to break the mould. Which isn't to say that there aren't some genuine side-splitters here. Hahn is always a delight, and her matter-of-fact interactions with stripper Ty (Justin Hartley) as she waxes his taint are worth the price of admission alone. Similarly, the quintessentially passive aggressive Baranski is golden as Kunis' mother. Indeed, you may find yourself squirming as you consider how close your own family unit is to the combination of Baranski, Hines, and Sarandon. As the film wraps up into a predictably feel-good ending, we look forward to discovering who the bad grandmothers are in a Thanksgiving themed event.