Summary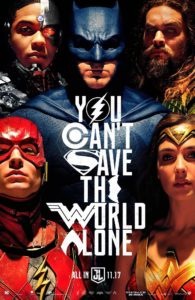 The DC Universe goes all in on this historic cinematic team-up of super friends as the franchise madly scrambles to pull together disparate elements from 75 years of comic book history.
The milestone film of the DC Extended Universe doesn't just come on the back several years of hype and marketing, but over half a century of anticipation from fans wanting to see this group of heroes together on the big screen. While the production was beset by tragedy, the final product is an uncharacteristic bit of fun for a series that has hitherto reveled in the dark corners of Zack Snyder's Murderverse.
Following the events of Batman v Superman: Dawn of Justice, the world laments the loss of Superman (Henry Cavill). Bruce Wayne/Batman attempts to draw together special folk from around the world – Wonder Woman (Gal Godot), Aquaman (Jason Momoa), The Flash (Ezra Miller), and Cyborg (Ray Fisher) – to fight the pending arrival of Steppenwolf (Ciarán Hinds apparently) and his legion of Parademons.
Desperately trying to pull together a universe in record time, a screenplay that's credited to Chris Terrio and Joss Whedon is unquestionably all over the place as we ping from one character introduction to the next. On some level, it's the kind of superhero film that we've always wanted to see, one that has no time for origin stories or overly complicated exposition. There are hints, of course, from Aquaman's brief conversation with Mera (Amber Heard), a cameo from the Flash's imprisoned father (Billy Crudup), and a subplot involving Cyborg's scientist dad (Joe Morton). Yet much of the backstory is ultimately cobbled together in shorthand from familiar stories. A flashback to the ancient discovery of Motherboxes, for example, looks and feels like it was lifted directly from Peter Jackson's Lord of the Rings b-roll.
The film soars when the band gets together, whether its with some time-honoured bickering or old-fashioned Parademon slaughter. An extended battle in the tunnels of Gotham is an amazing showcase for the various powers and temperaments of the heroes, and one that almost makes everything that comes after it pale in comparison. It's here that the influences of Whedon become apparent as well, with one-liners and gags that have been sorely missing from the DCEU until now.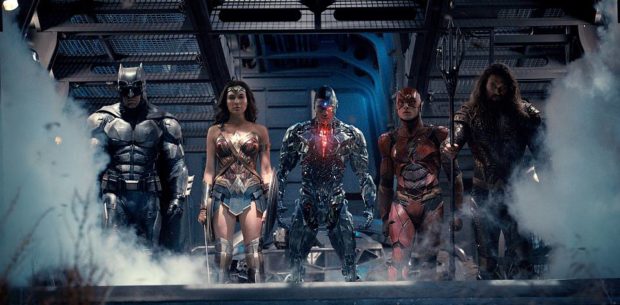 For the characters that have already had significant screen time, Snyder's film wastes no time in capitalising on their strengths. Wonder Woman comes literally bursting through the door and into action, as though she'd stepped straight out of her solo film and into this one. Batman's introduction is one of the purest depictions of the Dark Knight to date, complete with stings from Danny Elfman's 1989 theme, redeeming his single-minded hatred of Superman from the previous film.
Miller's Barry Allen/The Flash is miles apart from his TV counterpart, less of a lovable family man and more of a neurotic fool – but one that seems to revel in every moment on screen. Cyborg is the most problematic of the crew, getting the most exposition in order to make up for audiences being unfamiliar with the character, but his purpose in the film as the tech support always remains clear. Yet as charismatic (and shirtless) a screen presence as Momoa is, his presence in the film is purely perfunctory.
The climax is something that even the most casual viewer of the series will have seen a mile off, and as a set-piece is less than the some of its parts. Which is kind of where we're left with the JUSTICE LEAGUE, being a strange assembly of disconnected pieces that still manages to come together (right now) to form something that looks and feels more or less functional. Which is as perfect a description of the titular heroes as any.