Summary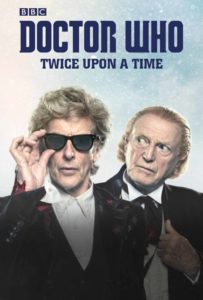 An emotional farewell, a fun caper, and the debut of a new hero. What else could it be but the Doctor Who Christmas special?
[NB: You better believe this review contains spoilers, sweeties.]
The 2017 DOCTOR WHO Christmas Special, "Twice Upon a Time," isn't just a farewell to actor Peter Capaldi. It marks the end of showrunner Steven Moffat's era, one that has dominated the last 7 years of the franchise. While it hasn't always been a popular tenure, it's left an indelible mark on the show's history. With this outstanding finale, Moffat pays tribute to that history in the most joyous way possible.
Picking up shortly after "The Doctor Falls," the titular Time Lord is attempting to stop his next regeneration. In a hitherto unknown quirk in the timeline, the First Doctor (David Bradley) is also putting off his first regeneration. Causing a hitch in the timelines, the very fabric of time freezes and strands a First World War officer (Mark Gatiss) alongside them. As the mysterious Testimony make their presence know, alongside the seemingly returned Bill Potts (Pearl Mackie), will the Doctor regenerate or take the ultimate Time Lord rest?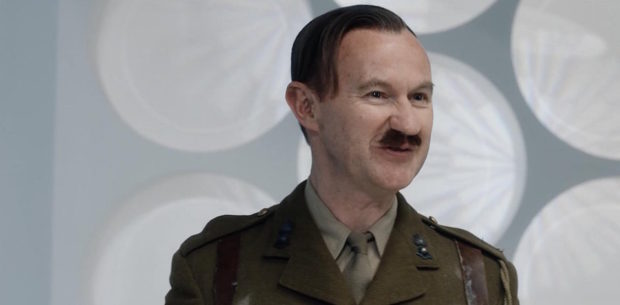 "Twice Upon a Time" is a caper first and foremost. Much of the early part of the episode is spent revelling in the fun of watching the two Doctors interact. Following actual footage from "709 episodes ago," there's a loving recreation of an alternative version of "The Tenth Planet," the final regular episode of The First Doctor. (The appearance of Jared Garfield and Lily Travers and companions Ben and Polly was unexpected, but a fun treat for fans). Moffat's script then proceeds to play off the tonal differences between 1966 and 2017, including the First's archaic attitudes on women and the interior of the TARDIS.
The plot involving the Testimony is almost incidental to the grand finale, a kind of feature-length McGuffin that allows the above interactions to flow seamlessly. This has been a criticism of the show since at least David Tennant's Tenth Doctor, where the departure of the lead has overshadowed anything else on the screen. Yet Capaldi's towering presence demands such an approach, and this is Moffat working out his own complex emotions on leaving the series as much as it is a farewell to an actor.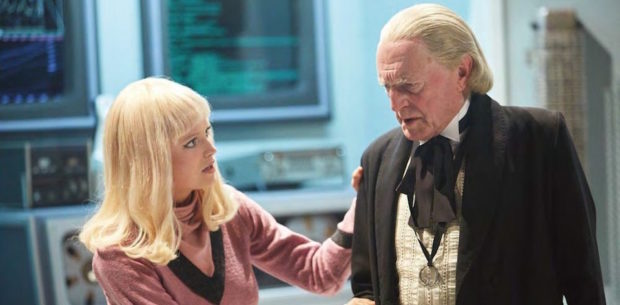 As such, the scenes leading up to the regeneration are filled with the Moffat indulgences that we've both cheered and derided over the years. There's grand speeches, multiple cameos (including bloody Clara, of course) and, being a Christmas episode, at least one twee carol echoing across the battlefield. The regeneration itself is respectfully tight, with Capaldi stepping aside for the new blood with the words "Doctor, I let you go."
With all the ends that this episode represents, it also marks a whole lot of firsts. The next season will welcome a new showrunner in Chris Chibnall, and what we expect to be a change of direction in the show. We also get our first glimpse of the Thirteenth Doctor (Jodie Whittaker) in action, as the first woman to play The Doctor makes her debut before tumbling from the TARDIS in a delightful cliffhanger. Her first words as the Time Lord sum up the moment perfectly: "Aw, brilliant."
Check out all of our reviews and coverage of DOCTOR WHO – Series 10