The hero of this story is a librarian, which should instantly earn it a special place on Twitter. Of course, director Isshin Inudo has made at least two films specifically for cat lovers (Goo Goo, The Cat and The Cat in Their Arms), and that's basically what the glue that holds the Internet together. With SAMURAI SHIFTERS (引っ越し大名!), he takes a turn into the Edo Period.
Based on Akihiro Dobashi's novel, the film takes place in Himeji in 1682. A group of samurai who are continually forced to strategically move are once again asked to pack up their entire town and shift to Bungo Province in Kyushu – over 400 kilometres away and across water. With the next shinkansen not due for a few hundred years, the bookish Shunnosuke Katagiri (Gen Hoshino) is unexpectedly (and reluctantly) put in charge of the move.
It's been a year for samurai on the move. Following Samurai Marathon earlier this year, Isshin Inudo's film takes a decidedly more comedic tone. Starting with the slow-motion scene of Shunnosuke trying to run away from his new responsibility, much levity is initially made from his timidity. This is contrasted with the take-charge attitudes of Oran (the always excellent Mitsuki Takahata) and Genemon Takamura (Issey Takahashi).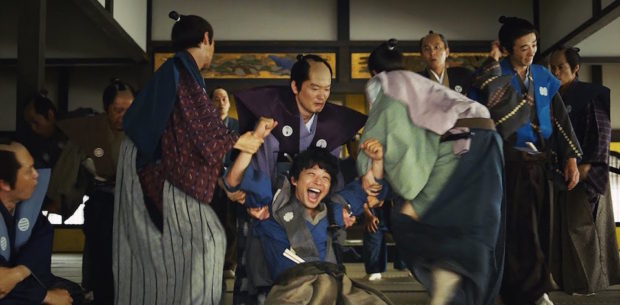 This tone isn't always consistent. As has been the case with some of the broader satires in contemporary Japanese cinema, and (let's face it) in Western cinema too, there is a massive jarring feeling when the comedy stops for the sake of action, drama, or saccharine emotion. (It's a kind of a musical too). Case in point is the climactic confrontation, one that takes the audiences on a rollercoaster of emotions in short order.
The top-notch cast is certainly filled with some big names. In addition to Gen Hoshino, who is perhaps known best outside of film circles as a singer-songwriter – both with his band Sakerock and as a solo artist – there's also the prolific Issey Takahashi. The latter has been in everything from Shin Godzilla to the indie gem Blank 13, providing a parody (of sorts) of the commanding samurai here. Masato Sakai (Rage) also gets to showcase the playful side we saw in Destiny: The Tale of Kamakura (and the wonderful Japanese Girls Never Die).
Photography and production design is universally stunning. Every single outfit worn by the various samurai looks loving crafted from exacting Japanese textiles. There's the glorious use of the stunning Himeji Castle location (which is as amazing on screen as it is in person), and beautiful photography of rice fields and valleys as they approach their Kyushu destination, and some of these moments are breathtaking.
A lavish period piece with a combination of a top-notch cast and meticulous design makes this better than the average bear.

2019 | Japan | DIR: Isshin Inudo| WRITERS: Akihiro Dobashi | CAST: Gen Hoshino, Issey Takahashi, Mitsuki Takahata | DISTRIBUTOR: Shochiku (JPN), JAPAN CUTS (US) | RUNNING TIME: 120 minutes | RELEASE DATE: 30 August 2019 (JPN), 19 – 28 July 2019 (JAPAN CUTS)