Summary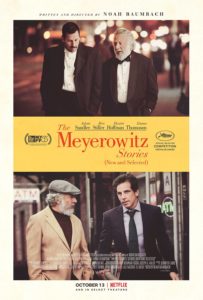 Noah Baumbach does what he does best in a film that is uncomfortable, raw, and also incredibly funny. A showcase for stellar performances in a family dynamic we can all relate to.
Noah Baumbach's films are both timeless and sharply contemporary, having now been in our cinematic lives for over two decades. While The Squid and the Whale might be the definitive tragicomic model for some audiences, the dizzying energy of Frances Ha showcased Baumbach's master of minimalism. With THE MEYEROWITZ STORIES (NEW AND SELECTED), the filmmaker might just be playing to his biggest audience yet as a Netflix original, but he retains all of the laser-focused charm of his previous work.
Unsurprisingly for a Baumbach flick, his latest outing is a saga about a dysfunctional family that explores the boundaries of their separation. Three adult siblings – Danny (Adam Sandler), Matthew (Ben Stiller), and Jean Meyerowitz (Elizabeth Marvel) – gather in New York around their curmudgeonly father Harold (Dustin Hoffman).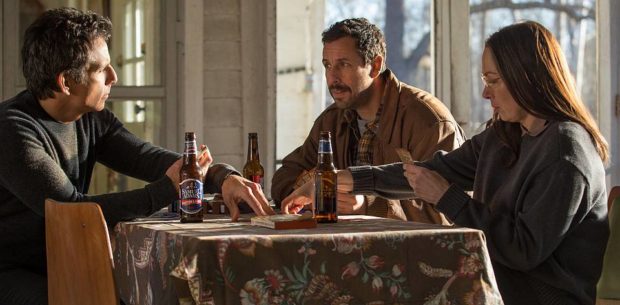 There's a very deliberate beat to Baumbach's film, with a tempo led by Randy Newman's distinctive score, and one that will either grate or gel with audiences almost immediately. "He must have a real tolerance for discomfort," is said of Harold after being hospitalised for a long suffered condition. Which might be a perfect description of the intended audience of the film, as the filmmaker puts them through scenes that are uncomfortable and raw, but also very funny. So in other words, a Noah Baumbach film.
As the title would imply, the film is structured around vignettes from their character arcs. Sections with end mid-sentence, or typically mid-yell, as if to remind us that nothing more constructive can be had from lingering any longer. It's loosely tied together with a thematic thread of a family slowly realising the power their artist father has had over their lives, whether they are willing to admit it or not.
So unsurprisingly, THE MEYEROWITZ STORIES proves to be a showcase for the talents of its leads. After a run of cringeworthy Netflix outings, Sandler is simple remarkable as the frustrated musician who never made it purely from a lack of trying. He frequently draws on his vast wells of rage to explode in a way that is both comical and disarmingly real. Keeping pace with the delightfully doddering Hoffman, who kvetches into his beard about increasingly absurd mundanities, their two-handers are priceless.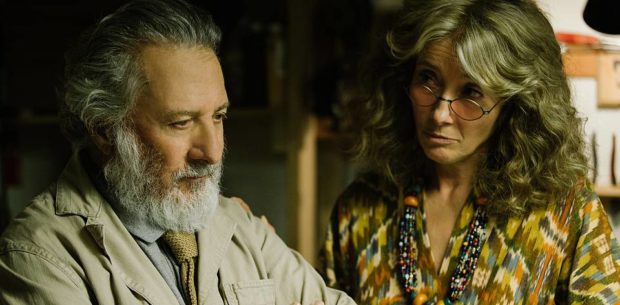 Stiller has a similar run with Hoffman, with a diner scene an exemplar of the overall approach, and it's a breakdown confessional he has at a gallery opening that shows the range of Stiller's talents. Save for one hilarious sidebar story, sister Jean is kept on the sidelines. Emma Thompson, as Harold's current wife, is also criminally underused, as the film is very much structured around the men. That said, there's a running gag about Danny's daughter Eliza (Grace Van Patten) and her frequently nude appearances in student films with titles like 'The Adventures of Pagina Man.'
THE MEYEROWITZ STORIES reaches peak Baumbach, not so much in terms of quality but as a culmination of themes he has been playing with throughout his career. As extreme as the characters and their reactions are, there's a universality to their anxieties that we can all relate to.