Summary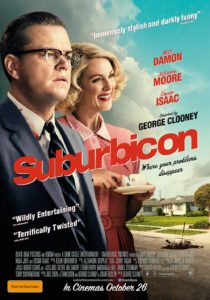 There are moments of dark comedy levity. The rest is a potpourri of sub-Coen, sub-Clooney and often just sub-par hijinks.
If there was ever a movie that managed to narratively mirror its own disjointed production history then its SUBURBICON. Originally written by brothers Joel and Ethan Coen in 1986, following the release of their debut film Blood Simple, director George Clooney and Grant Heslov have cobbled together the 2017 edition. Despite the pedigree, it's less than the sum of its many moving parts.
Set in the brightly coloured sheen of the idyllic 1950s, Gardner Lodge (Matt Damon) and his wheelchair bound wife and her twin sister (both played by Julianne Moore) are shaken up by a home invasion. As the rest of the titular neighbourhood turns their aggression on the only black family on the street, the Lodge clan turns their anxieties inward.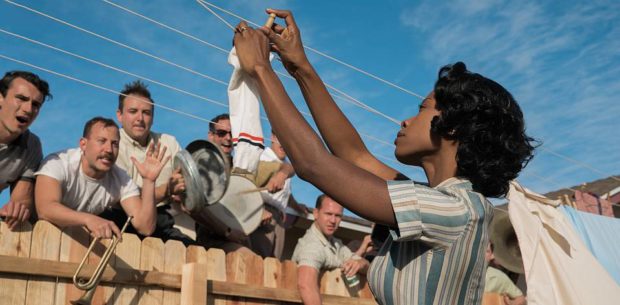 Clooney establishes his scene with a parody of a 1950s infomercial, coyly setting us up for another exploration of the dark underbelly of 'perfect' suburbia. The remainder of the film doesn't match this prelude, except in the sense that it is also followed by a series of awkwardly mismatched moments and characters. Refugees from Barton Fink play out their greed under Alexandre Desplat's overwhelming score, with entire story threads lost for the sake of momentary style. There is dark levity scattered throughout, but Matt Damon on a child's bicycle feels more like an obligatory box-ticking exercise than anything else.
A generous reading of the film would be to see it as a fragmented vision of the chaos as observed by a young boy (Noah Jupe), the youngest of the Lodge clan. Yet this only goes so far in being the tenuous glue that holds the fragments together. The real crime of SUBURBICON is using one of its more powerful elements, the systematic bullying of a black family, as mere window dressing and a plot device. A lost opportunity that's also insulting.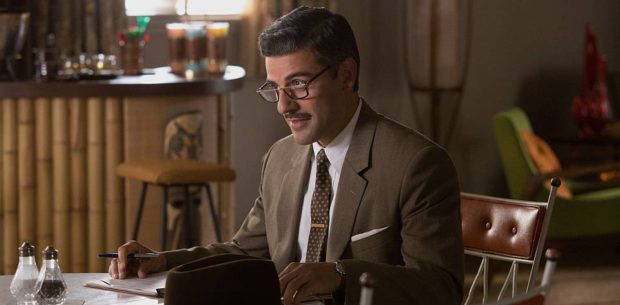 One of the lone standouts in this jumble is Oscar Isaac, a later addition to the plot who steps in fully formed and commands the scene. The pivotal character actually gives the narrative a line-through to the third act, but he's just a joy to watch.
Ultimately SUBURBICON is a plot that is MacGyvered together with string and tape, and served up like a favourite child's art project: there's an obligation to acknowledge it, but you'll quietly place it in the box at the back of the cupboard when nobody is looking. Even with the typically excellent creative team, it's sub-Coen, sub-Clooney and often just sub-par.