Summary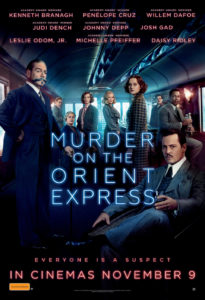 While this latest adaptation keeps the main story more or less on track, there's a few too many twirls of the facial hair to keep either purists or new fans completely satisfied.
What more can be said about what is arguably one of the quintessential whodunnits of the 20th century? In his 10th outing for Agatha Christie, Hercule Poirot came fully formed for the definitive "locked room" mystery. Yet with Kenneth Branagh's take on MURDER ON THE ORIENT EXPRESS, the delicate control of Christie is abandoned in favour of something more chaotic.
Michael Green's script marks its point of difference early on, opening with Poirot (Branagh) fussing about over some boiled eggs in Jerusalem before rapidly solving a case involving a priest, a rabbi, and an imam. Crafted to show his almost inhuman abilities to solve crimes, the rest of the narrative follows Christie's text relatively closely. On a break between cases, Poirot boards the titular train, unseasonably filled with an eclectic group of travellers. When the sleazy industrialist Ratchett (Johnny Depp) is murdered, everyone is under Poirot's carefully executed suspicions.
Perhaps inspired by Guy Ritchie's hyperkinetic take on Sherlock Holmes, the bumbling, CG-fueled mashup of influences is a period piece with a thoroughly ultra-modern sensibility. Make no mistake: for all of its acclaim, MURDER ON THE ORIENT EXPRESS was always a silly story. Even Christie tired of Poirot after a time, but still wrote him as an irresistibly compelling detective. As Poirot awakens from his slumber wearing an ornate mustache protector, it's clear fidelity wasn't necessarily on Branagh's mind.
What this modern take does give us for the first time is a glorious set of frozen 70mm landscape shots from Haris Zambarloukos (Denial), juxtaposed as they are with unnecessary computer generated images. It might allow for more period detail, but this is more or less a single-setting thriller. Everything else feels more than a little bit extraneous, including the dashing chase sequences and fisticuffs.
Branagh is delightfully over the top as Poirot, although once you're affixed on his magnificent mo it's impossible to take in anything else on the screen. Perhaps this is the greatest bit of distraction in cinema history. In fact, everybody finds the scenery delicious, from Michelle Pfeiffer practically purring her way down the aisles, to Willem Dafoe's proto-Nazi. Only Derek Jacobi, as a long-suffering valet, manages to bring any sense of subtlety to his performance.
Repeated references to Poirot's lost love "Catherine," a rare bit of backstory that perhaps alludes to Christie's Countess Vera Rossakoff, indicates that the studio has bigger plans for the character. Indeed, a winking nod to another Poirot tale bookends the mystery, hinting that the story isn't quite over yet. However, this mostly soulless outing might just mean that the train has run out of steam before it even leaves the station, and it will take a fair bit of coal to stoke the fires for future films.