Summary
A brief overview of the strange-but-mostly-true tale of the co-creator of Wonder Woman, trading feminist history for threesomes for some dramatic liberties.
Wonder Woman's journey to the big screen took over 75 years, and while her voyage to the comic book page wasn't quite as long, it is a fascinating one. Documented extensively in Jill Lepore's excellent text The Secret History of Wonder Woman, it's a complex story that parallels the history of the suffragette movement and feminism in America. However, Angela Robinson's PROFESSOR MARSTON AND THE WONDER WOMEN is more interested in the salacious side of the story.
In the film's narrative, Moulton's (Luke Evans) testimony to the Child Study Association of America serves as the framing device for a potted history of his life up until that point. Beginning with he and his wife Elizabeth's (Rebecca Hall) careers as teachers at Harvard and Radcliffe Colleges in 1928, Moulton hires teaching assistant Olive Byrne (Bella Heathcote), the niece of Margaret Sanger and the daughter of Ethel Byrne. Their professional relationship turns personal, and the trio begin cohabiting as a threesome.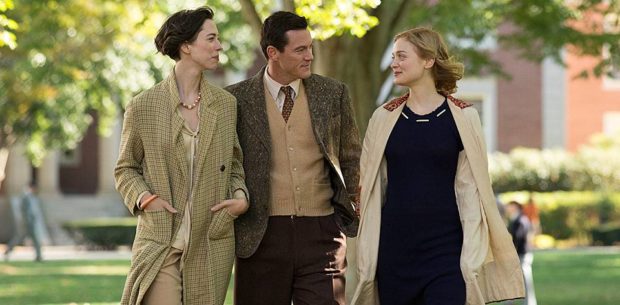 Suffice it to say, Robinson's script takes a few dramatic liberties from this point. Inspired by the powerful women around him, Moulton saw the publication of Wonder Woman as "psychological propaganda for the new type of woman who, I believe, should rule the world." Like Lepore's book, Robinson is less interested in the character than the people behind it, although their focal points are very different. If you believe the film, the closeted sexual antics and bondage sessions of Marston, Holloway, and Byrne were the direct inspiration for Wonder Woman, and save for a few scenes of domestic bliss, we never get much deeper into their relationship.
This is a shame, as all reports indicate that Holloway and Byrne shared a much different relationship to the sexual one in the film. Surviving relatives say they viewed each other as sisters, while Lepore paints a picture of Holloway's career ambitions being partially enabled by Byrne's domesticity. Martson had two children with each of the women, something historian Tim Hanley said "embodied the feminism of the day" in Wonder Woman Unbound: The Curious History of the World's Most Famous Heroine.
The performances are still earnest, even if Evans is a at least a hundred pounds too light for Martson. Taken purely as an unconventional romance, there is an undeniable charm to Robinson's story, fueled by a soft-core eroticism that ties into psychologist Martson's ideas about dominance, inducement, submission, and compliance. So anybody that has ever had to do a DISC profile as part of a professional development course has Marston partly to blame.
Marston's accomplishments are numerous, including the invention of the first lie detector tests. His wife is arguably just as responsible for all of those accomplishments, although was never recognised in her day due to her gender. In PROFESSOR MARSTON AND THE WONDER WOMEN, we don't get adequate details on either of the titular groups, but hopefully it will encourage people to seek out more on this compelling tale.