Summary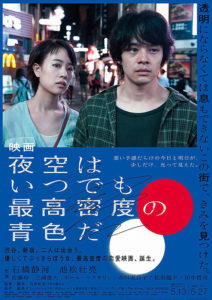 Relentlessly bleak, and perhaps overly laden with meaning, but there's a filtered reality that lurks beneath the surface, and a small glimmer of hope in the hopelessness.
"Have you really thought about what it means to live in Tokyo?" The swirling mass of people that swarm in and out of Japan's capital form a series of iconic images in our mind. For some it's a dream destination, but for the characters in THE TOKYO NIGHT SKY IS ALWAYS THE DENSEST SHADE OF BLUE (夜空はいつでも最高密度の青色だ) its an alienating way of life against which love seems like abstract concept.
Based on the melancholy poetry of Tahi Saihate, the film introduces us to nurse Mika (Shizuka Ishibashi), who works at girl bar at night. Shinji (Sosuke Ikematsu) is a construction worker who overshares his emotions as a result of his anxiety. The two continue to cross paths in the giant city, and despite the indifference of the Tokyo night, their relationship slowly evolves.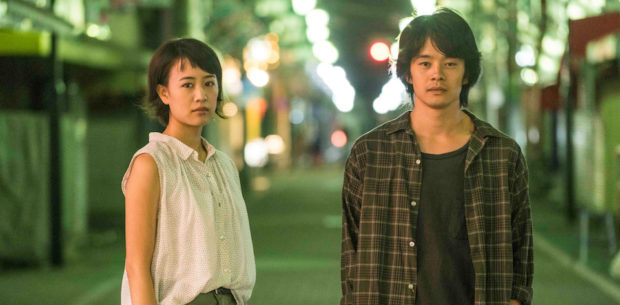 Both characters are suffering from their emotionally crippling afflictions. Mika has given up on love to the extent that she almost runs from it. Shinji is blind in one eye, and becomes increasingly withdrawn due to his self-consciousness. The city keeps throwing them together despite themselves, and they shouldn't necessarily work, naturally keeping each other at a distance like two repelling magnets. "There's 10 million people in Tokyo," they rationalise. "A meaningless miracle."
Yuya Ishii's (The Great Passage) measured pace is characterised by simple repetition of words and phrases. There's a recurring motif, for example, of people transfixed by their phones as wondrous airships pass overhead. A busker seems to go unnoticed as she pours her heart out into a tune that becomes the soundtrack to this unconventional romance. The titular blue light fills many of the scenes, whether it is the handheld shots of the city or the sporadic animated inserts.
As the lengthy title implies, the deliberately prosaic approach toTHE TOKYO NIGHT SKY IS ALWAYS THE DENSEST SHADE OF BLUE is not designed to be an easily accessible love story. As Shinji and Mika contemplate whether they are falling in love, they continue to question it: will they really be happy? What if they are abandoned? Did anyone teach them how to love? Perhaps the solution comes in the form of Shinji's older colleague, who simply states that "I'll live until I die." For everyone else, the answer "What do you expect? It's Tokyo."