Summary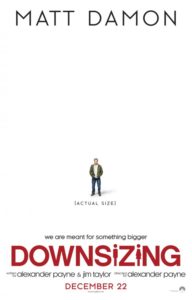 A high-concept film aims for satire, but this microcosm of a society is a misguided piece of commentary that may have reached for one too many tiny bottles of vodka.
If Alexander Payne's Sideways saw a character that was happy to metaphorically disappear down the pointy end of a quality wine bottle, then DOWNSIZING gives us a hero that can literally do that. Yet while the film aims for being a timely satire of responses to a global crisis, it misses the mark tonally. It's just a strange little film.
Following the revelation from Norwegian scientists that humans can now be shrunk down to save resources and space, a new wave of environmentally conscious 'downsizing' takes place across the globe. Occupational therapist Paul Safranek (Matt Damon) decides moving to the tiny Leisureland Estates is the change his life needs. However, after undergoing the irreversibly procedure to shrink down, he finds that the grass may not always be greener on the other side.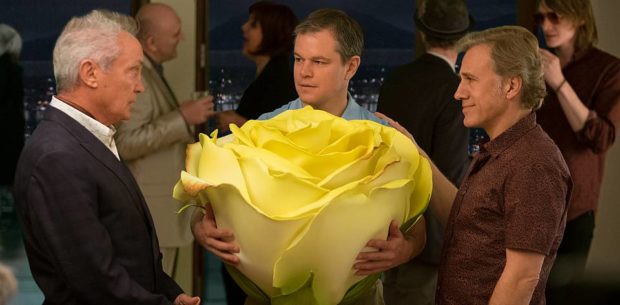 Just as he did with Citizen Ruth or Election, Payne's scenario (co-written with regular collaborator Jim Taylor) acts an actual microcosm for the world at large. Payne and Taylor play out a version of the debates over climate change, the refugee crisis, immigration, and social inequality on a small scale. Paul searches for his slice of the American Dream while international playboys Dusan (Christoph Waltz) and Konrad (Udo Kier) raise a glass to the libertarian economy that allows them to live the high life on the backs of illegal imports and the poverty classes. After all, they're just two wild and crazy guys.
Contrasting this is Hong Chau as Ngoc Lan Tran, forced to be a house cleaner after surviving being smuggled into the US inside of a TV box. Paul's unlikely relationship with her is part of a standard character arc, but it's also clumsily commenting on border walls and the so-called 'trickle down' economy. It also doesn't help that her character is written as a caricature, which may be true of all the players, but rankles when there's a subtext of global harmony underneath the gimmicky set-up.
DOWNSIZING completely loses direction in the lengthy second half of its narrative when it quite explores a world-ending scenario and human responses to it. Which is where Payne and Taylor seem to fall down, telling us that small change can make a difference but also nihilism is the logical conclusion of large-scale optimism. Take away the high-concept, and what we are left with is a misguided piece of social commentary that catalogues the problems, and gleefully tells us there is probably no solution.