Summary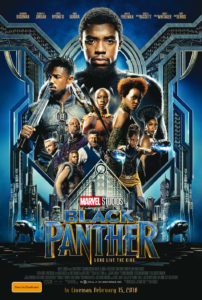 Marvel's latest hero drops into the cinematic universe with a visually spectacular film, but one that we can't help but feel we've seen before.
From its opening frames, BLACK PANTHER marks itself as trying something unique within the Marvel Cinematic Universe. Like Guardians of the Galaxy before it, Ryan Coogler physically separates his hero from the rest of the Avengers, giving him the space to explore styles and themes that the mostly western heroes couldn't fathom.
In a joyous display of colour and activity, Coogler's film takes us directly into the technologically advanced African nation of Wakanda. Following the events of Captain America: Civil War, T'Challa (Chadwick Boseman) returns home to claim the throne. However, an unexpected challenge comes from his late father's past, something that elder statesman Zuri (Forest Whitaker) knows more about than he's letting on.
After a magnificently realised opening act, in which the Afrofuturism of Wakanda is given ample time to evolve, BLACK PANTHER rapidly falls back on some familiar narrative crutches. Indeed, it mirrors the basic structure of Thor and the more recent Spider-Man: Homecoming, in that a hero has his mantle briefly taken away just so he can prove that he is worthy of it. Yet there's a sense of 'wash rinse repeat' in the elongated first section, as challenge after challenge soon gets tiresome.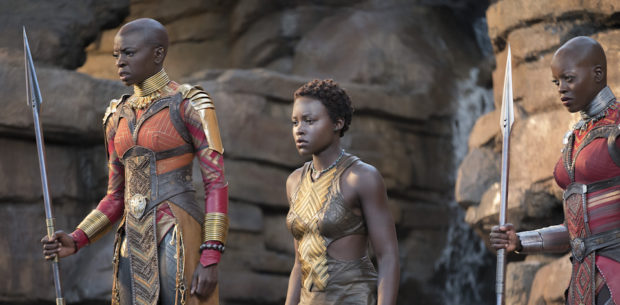 So it's not surprising that it gets tangled up when it tries to separate from its own framework. Coogler sets up a rich culture filled with strong warrior women – Nakia (Lupita Nyong'o), Okoye (Danai Gurira), and the formidable Angela Bassett (who plays Ramonda, T'Challa's mother). We'd happily watch a whole movie around T'Challa's sister Shuri (Letitia Wright), who is effectively the Q to T'Challa's James Bond. However, as soon as Wakandan awesomeness has been established, we're plonked in the middle of South Korea for reasons that have more to do with film production than plot. The car chase that follows is wickedly executed, but could have been lifted out of any action film to date.
Maybe this isn't so much a problem of Black Panther not fitting into the Marvel mould as it is Marvel not gelling with the movie Black Panther wants to be. After facing the initial threat of Ulysses Klaue (the delightfully scene-chewing Andy Serkis), the late arrival of new challenger Erik "Killmonger" Stevens (Michael B. Jordan) takes the film in a very different direction. Not only does his arc tie the film more immediately to the Black Lives Matter movement, but it gives the titular hero a doppelgänger to fight for the throne.
Here the film has nowhere to go but a confrontation of ideals, interpreted on screen as some gymnastic fisticuffs while dodging a series of maglev trains. We've been here so many times before that you may find yourself mentally checking your shopping lists while waiting for the inevitable heroic victory. After all, we've already seen T'Challa requisitioning Captain America a shield in the Avengers: Infinity War trailer, so we know he's got at least one more film in him after this one.
None of this detracts from the importance of BLACK PANTHER in the broader cultural context. This is a rare instance of a major superhero film featuring a cast that is almost entirely made up of persons of colour. It's just a shame that there is nothing in this film that draws on T'Challa's rich comic book and cultural heritage in any significant way, leaving us with just another masked Avenger to add more grist to the plastic mill.