Summary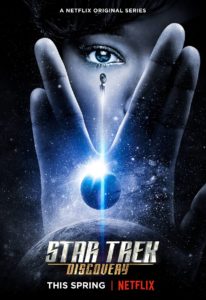 Taking the scope of the long-running cinematic universe, the first season of Trek's latest enterprise takes its time to earn every inch of its name. A fresh and original take, here is a show that acknowledges darkness and hope are not mutually exclusive.
Red alert: If you're boldly going ahead, know that spoilers have gone before.
Returning Star Trek to television after 12 years came with an enormous weight of expectation. From the very first episode screened in September last year, STAR TREK: DISCOVERY made it clear it wanted to raise the bar to cinematic levels. Across the 15 episodes of its first season, we watch the show make good on that promise.
From the start, showrunners Bryan Fuller and Alex Kurtzman take the opportunity of new television/streaming formats to tell the kinds of serialised stories Trek hasn't really attempted before. While Star Trek: Enterprise did tell elongated arcs in its final two seasons, STAR TREK: DISCOVERY is actively playing the long game. Much like the first season of Westworld, the show spends a while in 'pilot' territory, confident that we will follow the mystery down the rabbit hole.
Focusing on disgraced Starfleet officer Michael Burnham (Sonequa Martin-Green), whose actions land her in prison, this version of Trek is a little less certain with its morality. As a war with the Klingons rages on, she lands on the bridge of the titular USS Discovery, a science vessel with a unique mode of travel. Working under the command of Captain Lorca (Jason Isaacs), the show presents us with one of many firsts – a captain and crew we don't know whether we like, and a whole lot of mysterious characters yet to be revealed.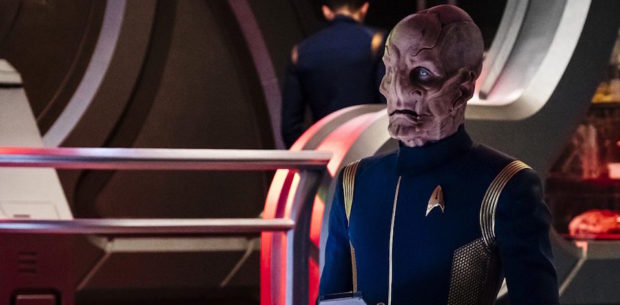 As noted in our review for 'Context is for Kings,' this is "not the first time Trek has delved into the hidden shadows of the Federation, but rarely has it so deliberately set up entire show structured as a mystery. The war with the Klingons has forced Starfleet to experiment with a Pandora's box of technology, with potentially Promethean results." Where those dark paths lead are genuinely surprising, and this is a show that loves its cliffhangers.
Some of those shocks and turns are the reveal of familiar characters, such as the (re)introduction of Harry Mudd (now in the form of Rainn Wilson), the inclusion of Spock's dad Sarek (James Frain) as Burnham's adoptive father, and the striking new appearance of the Klingons. An extended arc inside a mirror universe drops Easter eggs like its springtime, and a chance for each of the principal cast to have fun with their fledgling characters. Other twists come purely out of having a continuous story playing out on its own terms: some episodes run close to an hour, while others barely break half that length.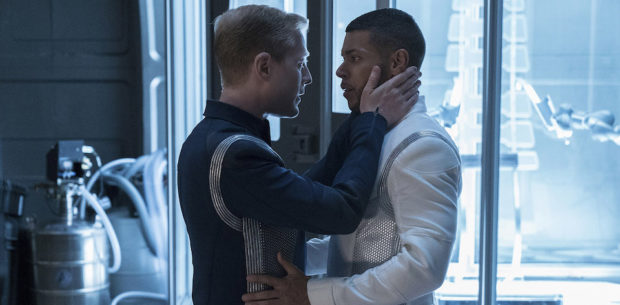 It's weird to think that in 2017/2018 we are still having 'firsts' in the realm of diversity. So it's a testament to Star Trek fans that there is more excitement over the first appearance of an F-Bomb than the casual inclusion of two non-heterosexual lead characters, Stamets and Culber. It's staggering is that this is the first openly gay couple whose names appear in the opening credits in the show's 50-year history. To quote Tilly, "This is so fucking cool."
By the climactic finale, it's simply a joy to have Star Trek back on our screens. Reminding us of all the things that Starfleet and the fictional future represents, STAR TREK: DISCOVERY is a show that works hard to be worthy of the Star Trek mantle. Welcome back, Trek. May you live long and prosper.