Summary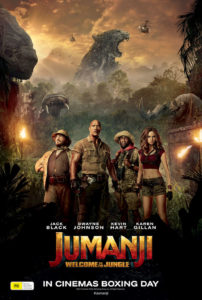 The mining of the 1990s continues with this retro throwback to a fan-favourite franchise that's energetic and surprisingly fun.
The 1995 film Jumanji has become something as a cultural touchpoint for 90s kids. Based on the book of the same name by Chris Van Allsburg, the concept never quite got off the ground again, even with the similarly plotted Zathura. JUMANJI: WELCOME TO THE JUNGLE is both a standalone sequel and soft-reboot of the franchise, updating the references but maintaining the same demographic as the core audience.
In 1996, a young boy receives the board game of Jumanji from his father. He immediately sets about turning it into a video game, and is sucked into its reality. 20 years later, four teens are on detention clean-up duty when they find the game cartridge. Soon they too are trapped inside, looking exactly like their game avatars (Dwayne Johnson, Karen Gillan, Jack Black, and Kevin Hart). In order to escape, they have to face the very real dangers and finish the game.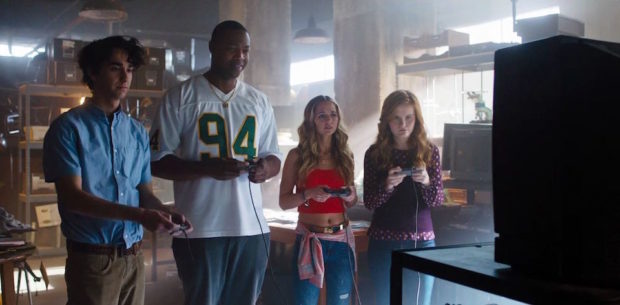 The updated JUMANJI operates largely on the premise of audience familiarity and the cult of personality. This isn't necessarily as terrible a move at it sounds, allowing the film's game-based structure and multiple comical non sequiturs to hit the ground running. In any other film, Kevin Hart defanging a snake (not a euphemism) or suddenly exploding when he eats cake would be completely ridiculous. Sure, it is here too, but with the rules to the game only becoming apparent as the film progresses, it lends itself to a kind of refreshing unpredictability in the moment.
Yet this is ultimately a showcase for the cast. The four main stars, and the bonus Jonas who appears halfway through the narrative, have each carved out their distinct audiences over the years and each plays to them knowingly. Johnson and Gillan in particular go for the cute/awkward motif, so much so that you actually believe they are being inhabited by teenagers. Hart and Black have always felt like they were fully grown teens, and Hart in particular is the essential comedic ingredient. Perpetual villain Bobby Cannavale all but twirls a moustache as Van Pelt, a name that will be familiar to fans of the original.
JUMANJI: WELCOME TO THE JUNGLE is an unexpectedly fun outing. While it won't score any bonus points for originality, it does entertain from moment to moment. In this sense, it's not quite analogous to a video game for re-playability, but it's perfect for a holiday outing that lets you jump aboard and ride the wave for a while.