It's trite but true to say we're living in a new golden age of television, but 2017 proved that we may have no reason to leave the house ever again. After all, the sheer amount of money that I send to Deliveroo this year was enough to fund a small nation.
It's possible that it's because television this year demanded that we remains glued to our sofas, couches, laptops, streaming services, mobile phones, and borrowed Foxtel passwords. Long-form TV is like watching a little film every week, with production budgets to match. It's a great time to be a couch potato.
Rather than just list 10 shows that I dug this year, which is way too easy, I thought I'd list my favourites with a few 'award' categories. So without any further ado…
Best return…and just about everything else – Twin Peaks: The Return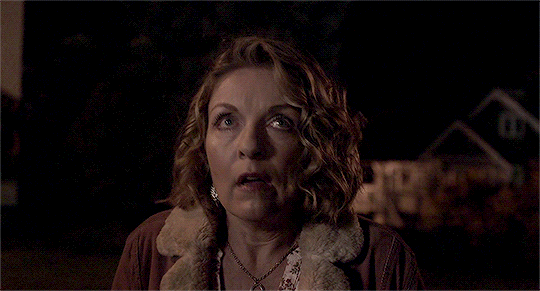 Should we just cancel all other TV now? It's impossible to imagine what a post-Twin Peaks landscape will look like. Just as the original series elevated network TV of the 1990s, Mark Frost and David Lynch truly managed to bring serial storytelling to a new level. This was a film that was told in 18 parts. It demanded that you pay attention to every moment. It had us asking big questions. It gave us answers we didn't always understand. In fact, it gave us the only ending it could possibly have after 25 years – and still left us with a mystery. If this is the last thing Lynch ever does, it may just be his masterpiece.
Best adaptation – The Handmaid's Tale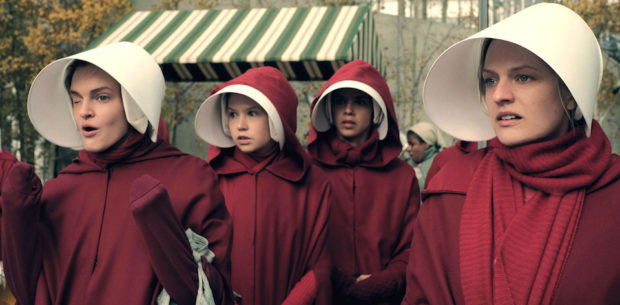 The series singlehandedly put Margaret Atwood's 1985 dystopian novel back on must-read lists, with Goodreads alone recording 1.2 million readers shelving it during 2017. As the first series on a streaming platform to win an Emmy for Outstanding Series, it's not hard to see why. Even with some of the novel's flashback structure altered slightly, showrunner Bruce Miller creates a fully realised world that is a little too close to our own. Elisabeth Moss' award-winning performance is unmissable. Leaving us on a cliffhanger, the second season promises to take us into completely new territory.
Best reinvention of a classic – Star Trek: Discovery

It's hard to believe that there was a 12 year gap between Star Trek series on television. It's return marked several 'firsts' for a the franchise: the first black woman in the lead role, the first gay couple in the principal cast, and in episode 5, the first 'f-bomb' in any Trek outing. Yet rarely has the series been structured as a mystery. The war with the Klingons has forced Starfleet to experiment with a Pandora's box of technology. Our narrative proximity to Burnham (Sonequa Martin-Green) puts us on the back foot as well, so we instantly learn not to take anything at face value.
SEE ALSO: Mystery Science Theatre 3000
Best crossover – Arrow, The Flash, Supergirl and Legends of Tomorrow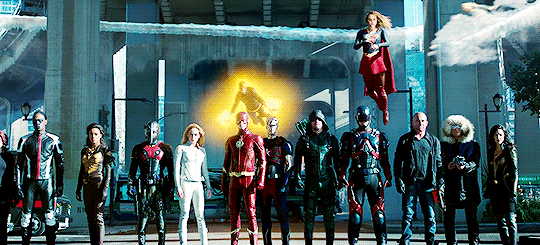 Forget The Defenders. While each of the shows has struggled to maintain quality across the season, each of these four shows on the CW (and Fox8 here in Australia) managed to do what no other franchise has done to date. In a four-night event of pure comic book joy, the shows brought together well over a dozen superheroes in a singular Multiverse shattering story that was about nothing but storytelling and giving fans exactly what they wanted. The nine-figure budgets of cinematic DC Extended Universe managed to unite…six.
Best cliffhanger – Game of Thrones: Season 7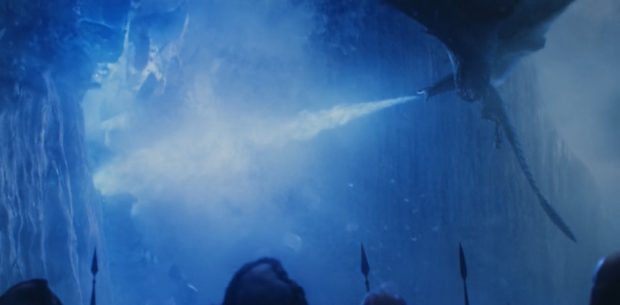 SPOILERS ahead. The biggest season of the show to date, at least in terms of its sheer scale, was arguably one of the most consistent as well. That might be a bit controversial to the book faithful, given we are now in uncharted territory. Yet it's hard to argue with the final moments of the whopping 80-minute finale, as the undead dragon Viserion destroys Eastwatch and a section of the Wall in a blister of blue flame. How can they possibly top this? Guess we'll find out when it returns for the last time in 2019.
SEE ALSO: Doctor Who, The Walking Dead
Best unexpected continuation – The Good Place: Season 2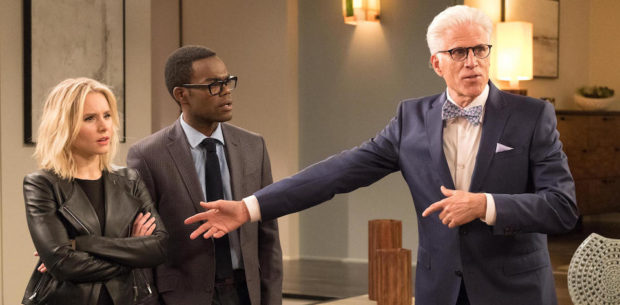 MORE SPOILERS. Ok, so the first season of THE GOOD PLACE ended on a hell of a bombshell by revealing that they'd been in the Bad Place all along. So where did they go from there? Collusion. After a hilarious Groundhog Day opening episode, watching Michael (Ted Danson), Eleanor (Kristen Bell), Chidi (William Jackson Harper), Tahani (Jameela Jamil), Jason (Manny Jacinto), and the batshit Janet (D'Arcy Carden) maintain the official fiction is addictive stuff. Bring on the second half!
Best voyage into our brains – Rick & Morty: Season 3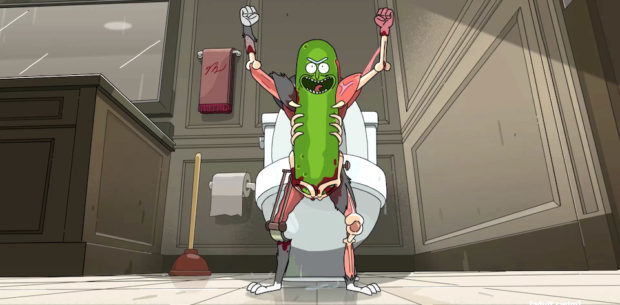 Pickle Rick. If that was the only thing RICK & MORTY offered us this year, it would earn a place on this list. Yet the third season of this show continued to push its own boundaries. "Vindicators 3: The Return of Worldender," for example, was a biting deconstruction that also happened to be the best superhero team-up of the year. However, with Beth's choice of whether to be cloned and have adventures of her own made this a heartbreaking drama as well, showing us that Justin Roiland and Dan Harmon isn't just one thing. Let's hope Mr. Mr. Poopybutthole is wrong about it being a long wait until Season 4.
Best experimental dramedy – Master of None: Season 2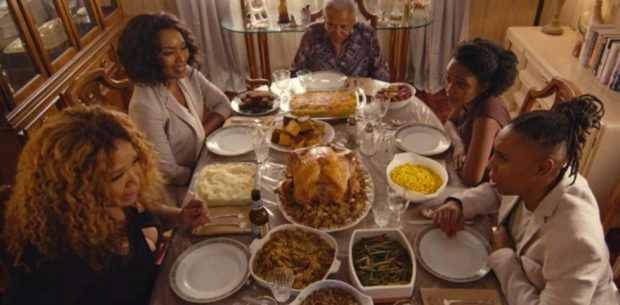 Aziz Ansari and Alan Yang's highly anticipated follow-up to their 2015 Netflix series wasn't what we expected: it was even better. Experimenting with style, from aping classic Italian cinema to the exhausting repetition of dating apps, it never gives us the easy answers we wanted from the end of the first season. The award-winning "Thanksgiving" episode is a showcase for co-writer Lena Waithe, who chronicles 20 years of being a gay black woman in what might be the most perfect 34 minutes of television this year.
Best stand-up (TIE) – Hasan Minhaj: Homecoming King and Patton Oswalt: Annihilation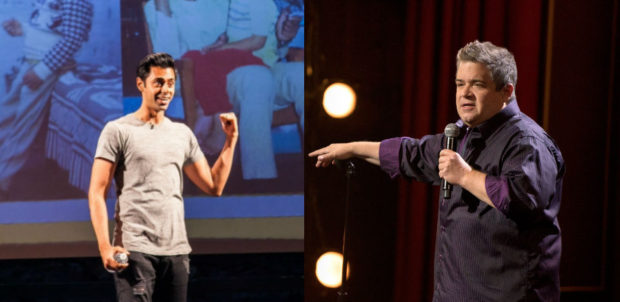 Comedy is a tricky beast at the best of times. So any piece of work that manages to make you think while laughing through the tears is pure genius. Hasan Minhaj and Patton Oswalt both achieved this with their Netflix specials this year. Coming off the back of his scorching White House Correspondents' Dinner roast, Minhaj creates a standalone piece that blends autobiographical storytelling, comedy, and visual presentation into a missive on understanding and tolerance. Meanwhile, MST3K's Oswalt makes a return to comedy following a personal tragedy. In one moment, you'll be splitting your sides during his take on Trump. The next you'll be crying your eyes out as he talks about sharing loss with his young daughter. Both are must sees.
Best late night laughs – Full Frontal with Samantha Bee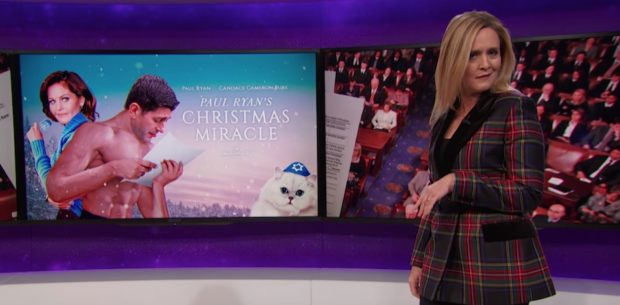 2017 has been…challenging. Trump Era politics have been even more bizarre than we anticipated, but thankfully comedy hosts have risen to the challenge. Samantha Bee, late night's only female host, brings her fierce brand of commentary to a variety of topics. Yet it's her unrelenting ability to hold the administration to task on women's rights, human rights, and the absurdity of it all that makes her essential viewing. It might be shouting into the void some weeks, but we're screaming right next to you.
Best farewell – Doctor Who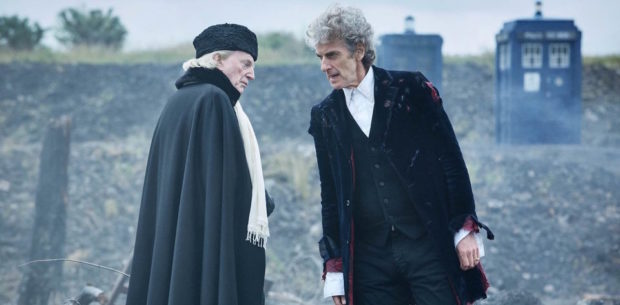 The 2017 DOCTOR WHO Christmas Special, "Twice Upon a Time," wasn't just a farewell to actor Peter Capaldi. It marked the end of showrunner Steven Moffat's era, one that has dominated the last 7 years of the franchise. While it hasn't always been a popular tenure, it's left an indelible mark on the show's history. With this outstanding finale, Moffat pays tribute to that history in the most joyous way possible. We also get our first glimpse of the Thirteenth Doctor (Jodie Whittaker) in action, as the first woman to play The Doctor makes her debut before tumbling from the TARDIS in a delightful cliffhanger. Her first words as the Time Lord sum up the moment perfectly: "Aw, brilliant."