Summary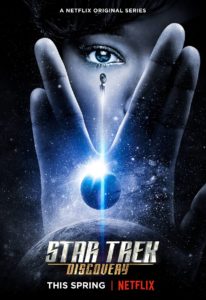 The tone is still dark, but there's a spirit of the old-school Trek in the sciency solutions and creature features of this week's episode.
Since at least Enterprise, and certainly through the J.J. Abrams films, the repeated refrain has been "It's good, but is it Trek?" STAR TREK: DISCOVERY has certainly given some alternative answers to that question, but with the fourth episode we get something that's at least spiritually in the vein of past series.
'The Butcher's Knife Cares Not For The Lamb's Cry' confirms at least two things: the crew of the Discovery aren't nice people, and the showrunners have a penchant for long episode titles. Burnham settles into her new position on the ship despite crew tension. When the Klingons attack a key Federation base, the Discovery is the only ship that can make the jump thanks to their experimental technology. At least if they can control it.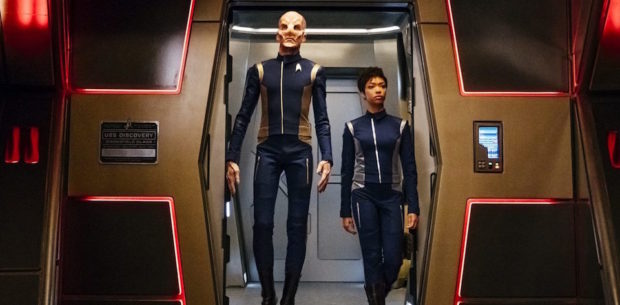 The notion of 'discovery' is more than just the name of the ship (and the show, of course) in this engaging episode. Picking up on a thread left dangling from last week, Burnham must grapple with being told to ignore her scientific instincts in favour of seeking military applications. It taps into a vein that has been running through the series at least as far back as The Next Generation's 'Encounter at Farpoint.'
On the other hand, there are no neat wrap-ups in this darker corner of the universe. While Burnham helps the crew discover a way to overcome their dilemma using her science smarts, we get the sense that it is only a matter of time before Captain Lorca finds a way of harnessing the solution for mercenary purposes. We continue to be in the unusual position of not trusting the crew to ultimately do the right thing. Despite Burnham's insubordination, or perhaps because of it, she ironically provides us with the cleanest connection to the old Trek.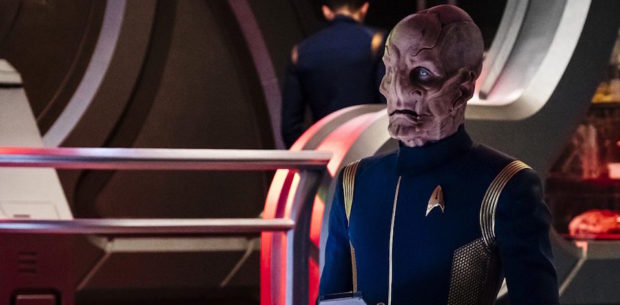 There's also a major secondary story involving the aftermath of the Klingon debris, with Voq and L'Rell still on T'Kuvma's ship six months later. While we still may not be entirely settled with the new-look Klingons, the underhanded dealings and coups within the crew are familiar ground for the fractious Klingon empire.
STAR TREK: DISCOVERY continues to tell stories bigger than the characters. More than this, as we finally settle into the titular ship, there is still so much for the audience to discover as well. Indeed, it's unlikely we could name half of the bridge crew, let along tell you anything beyond 'face implant lady' and 'possible robot. (We do, however, now know that Saru's threat ganglia are a kind of spider-sense). It's an exciting place to be in for a franchise that's now over 51 years old.