Summary
A magnificent ensemble cast, circling around the incomparable Frances McDormand, are the highlights of this powerful and disarmingly comic examination of grief and justice.
The notion of justice runs like a river straight through the heart of THREE BILLBOARDS OUTSIDE EBBING, MISSOURI. Since the 2016 US Presidential election, the world has seen the divisive way in which discourse has played out in the public sphere. Writer/director Martin McDonagh's film may not be specifically about politics, but it does examine the way in which having an opinion has given birth to a new kind of battleground.
Following the violent death of her daughter, the still grieving Mildred Hayes pays for three billboards targeted at the town's police: "Raped while dying", "And still no arrests?", and "How come, Chief Willoughby?" Dividing the opinion of the town, including the named and shamed Sheriff Bill Willoughby (Woody Harrelson) and his officer Jason Dixon (Sam Rockwell), the billboards soon get public and press attention, along with a series of threatening reprisals against Mildred.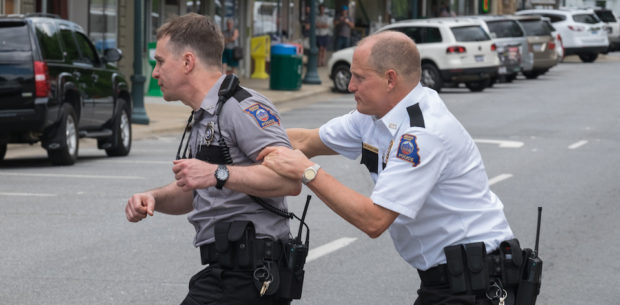 The presence of Frances McDormand in small town American immediately conjures up visions of the Coen Brothers, and there is a rich vein of dark comedy running through McDonagh's film. A comically violent scene in a dentist's office, for example, is an exemplar of McDormand's John Wayne-inspired performance. For a film that deals with the aftermath of a violent death, this is a strangely appropriate approach. Indeed, one of the more noteable qualities of the film is that McDonagh never deals directly with the crime itself. It is alluded to regularly, but this is a film about the aftermath.
Harrelson and Rockwell match the award-worthy McDormand pound for pound, with Rockwell reportedly referencing The Man Who Shot Liberty Valance to play the Lee Marvin to McDormand's Wayne. As the stumbling, vicious, and angry counterpoint to Mildred, he should be a character we instantly rankle against. We do, of course, at least up until the point that McDonagh's taut script has us coming around to his side in a clever third act turn. The laconic Harrelson, whose character's terminal cancer is an open secret in Ebbing, is at his laconic best. There's a single powerful scene that echoes throughout the remainder of the film, so even when he is absent from the screen, his presence is always felt.
More than anything, THREE BILLBOARDS OUTSIDE EBBING, MISSOURI is a film about dealing with grief. There's one moment where Mildred is running between burning billboards trying in vain to douse the flames. If ever there was a perfect metaphor for dealing with loss, this is probably it. An easy contender for all the awards this season, you may also be surprised at just how much fun you have with this serious topic.